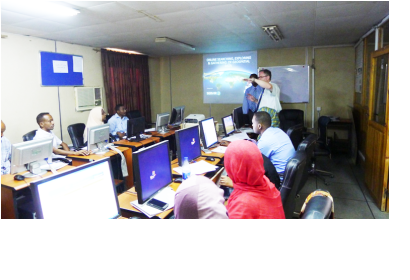 A workshop and training course on space-based technologies for disaster risk management are being held from 5 to 9 May 2013 in Khartoum, Sudan. Both events are organized jointly by UN-SPIDER and their partners the Remote Sensing Authority (RSA), the National Center for Research (NCR) of Sudan and the Regional Centre for Mapping of Resources for Development (RCMRD). The activities are supported by the Sudan Civil Defense General Administration, the Directorate of Public Health and Emergency (Ministry of Health), the Ministry of Agriculture & Irrigation and Sudan Meteorological Authority.
The training was kicked off with a one-day awareness-raising workshop on May 5 followed by a four-day training course for selected Government officials and UN staff. As one of the follow up actions of the UN-SPIDER Technical Advisory Mission (TAM) carried out from 22 to 26 May 2011, the training is expected to raise the awareness of decision-makers and local staff through the workshop and to build local capacity through training for more efficiently using space-based technology for disaster management at the national level for Sudan.
Over 120 participants from Government, NGOs, Academia, United Nations organizations and private companies in Sudan participated in the first day's workshop. H.E. the Minister of Science and Communications gave a welcome and opening statement during the opening ceremony, also attended by the State Minister of the same Ministry, the under-secretary of the Ministry of Health and other high-level officials.
The Director of Civil Defense of the Ministry of Interior also met with the UN-SPIDER expert team after the workshop. About 20 participants from RSA, Meteorological Service, Ministry of Defense, Ministry of Interior, Ministry of Health and Ministry of Agriculture and Irrigation of Sudan and local UN Offices (such as WFP, UNDP) are attending the training course. Five experts from UN-SPIDER, the China Institute of Water Resources and Hydropower Research and RCMRD are fully engaged in this activity coordinated by UNOOSA/UN-SPIDER.