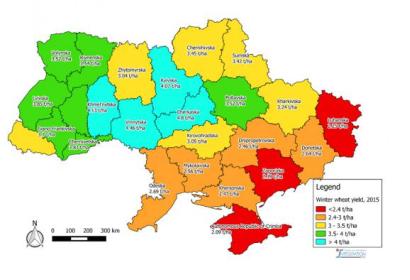 The Space Research Institute (SRI/NAS) in Ukraine and SSA Ukraine in cooperation with the UN-SPIDER Regional Support Office in Ukraine and Integration-Plus Ltd. have used satellite data to deliver geoinformation services for agriculture needs, including winter wheat yield preliminary forecast for 2015.
According to this preliminary yield forecast, based on satellite data as of 28 April 2015, significantly lower wheat yield compared to 2014 are expected in 2015. The yield reduction is expected to be in the range from 5% (Kyivska oblast) to 38% (Luhanska oblast). Wheat yield will be relatively low in regions that are the main wheat producers in Ukraine which can possibly lead to a significant yield reduction in wheat production on country level in 2015 compared to 2014.
For more detail, please refer to the Agro Bulletin #1 2015.