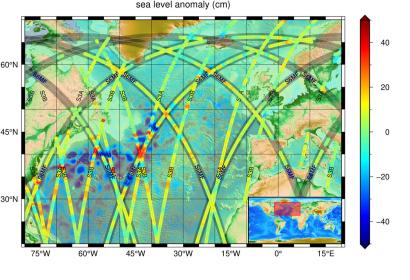 On 22 June 2021, the Copernicus Sentinel-6 Michael Freilich satellite entered its operational phase, which means that its first data products have been released to users. The data from Sentinel-6 is being processed by EUMETSAT in their headquarters in Darmstadt, from where the satellite is controlled. The data is then made available to climate researchers and ocean and weather forecasters for operational usage.
Launched on 21 November 2020 from California as a joint European Union and U.S. mission, Sentinel-6 measures sea surface height to within 3cm, from an altitude of 1336 km. The satellite is a continuation of the Jason series, in particular Jason-3, whose orbit Sentinel-6 follows. Nonetheless, it is the first of its kind and marks the beginning of the next generation of ocean-altimetry satellites.
Sea level is rising at an unprecedented rate, which may cause devastation in some regions of the world in the coming decades. Sentinel-6 will improve forecasts of ocean climate and hurricane intensity, as well as support the preservation of marine ecosystems. This, in turn, will aid disaster management and emergency relief efforts globally.
The first operational Copernicus Sentinel-6 Michael Freilich products are available here.