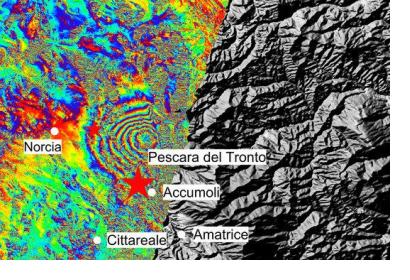 Scientists analysis of radar scans from satellites provides new data on the consequences of the earthquake that affected the central part of Italy on October 30th.
Italian experts have used radar imagery from Copernicus Sentinel-1 satellites to detect considerable east-west and vertical displacements of the ground in areas like Montegallo, Norcia and Castelluccio.
Combining radar scans prior and subsequent to the seismic activity the scientists from the Institute for Electromagnetic Sensing of the Environment of the National Research Council and the National Institute of Geophysics and Volcanology have mapped modifications that are between 12 and 60 in a centimeter-scale.
The team of scientists have benefited from satellite imagery provided by Sentinel-1 satellites of Europe's Coeprnicus programme led by the European Commission and operated by ESA; the Cosmo-SkyMed satellite from the Italian space agency and information from other space agencies.
The ongoing collision of the African and Eurasian tectonic plates causes frequent earthquakes in Italy.