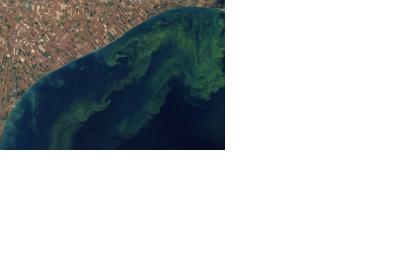 NASA has joined forces with the U.S. Environmental Protection Agency, National Oceanic and Atmospheric Administration and U.S. Geological Survey (USGS) to use ocean color satellite data to develop an early warning indicator for toxic and nuisance algal blooms in freshwater systems and an information distribution system to aid expedient public health advisories.
Algal blooms are a worldwide environmental problem causing human and animal health risks, fish kills, and taste and odor in drinking water. In the United States, the cost of freshwater degraded by harmful algal blooms is estimated at $64 million annually.
Satellites allow for more frequent observations over broader areas than present water sampling. "Observations from space-based instruments are an ideal way to tackle this type of public health hazard because of their global coverage and ability to provide detailed information on material in the water, including algal blooms," said Paula Bontempi of the Earth Science Division at NASA Headquarters in Washington.
 "We're excited to be putting NASA's expertise in space and scientific exploration to work protecting public health and safety," added NASA Administrator Charles Bolden.