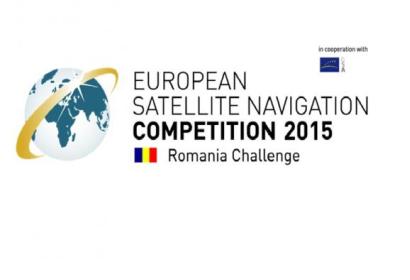 UN-SPIDER's Regional Support Office in Romania, the Romanian Space Agency (ROSA), announced the prizes of the European Satellite Navigation Competition - ESNC 2015 – Romania Challenge. The competition will award the best ideas for innovative applications in satellite navigation, offering winners the necessary support and advice to open or develop a business based on their competition ideas. ROSA became the regional partner with Anwendungszentrum GmbH Oberpfaffenhofen (AZO) for the ESNC 2015. It will be the first national edition in Romania.
Participants of the competition have the opportunity to compete for special prizes sponsored by partners like the Institute of Space Science (ISS), National Institute for Aerospace Research "Elie Carafoli" (INCAS), Romanian Association for Electronic and Software Industry (ARIES) and many more.
The prizes consist, among other things, of 1,000 EUR cash (with UTCB & RARTEL each contributing half) for the winner of the competition, a two-week internship at one of the GNSS centers of the Telespazio group (including transportation/accommodation) for the winner of the competition (provided by RARTEL), an internship at the GMV group for one of the finalists, including transport/accommodation (awarded by GMV Romania), access to technical spaces, support and advice from technical experts in implementing the winning ideas for the winner and second runner-up (prizes offered by ROSA, INCAS, ISS and UPB - FIA) and many more.
Participants also have the opportunity to compete at European level for 6 special prizes sponsored by institutional partners (GSA, ESA, DLR, BMVI, University Challenge, GNSS Living Lab Prize). For example: The most promising E-GNSS application idea (provided by the European Global Navigation Satellite Systems Agency - the European GNSS Agency/GSA) gets the opportunity to realise the idea at a suitable incubation centre of their choice within the EU28 for six months, with the option of an additional six months. Or the ESA Space Solutions Prize (offered by the European Space Agency - ESA). The winner can expect a cash award of 10000 EUR and start-up support in one of the fifteen ESA Business Incubation Centres (ESA BICs).
The competition is open to public or private people, businesses and institutions, who have a service, product or business based on satellite navigation systems (GNSS).