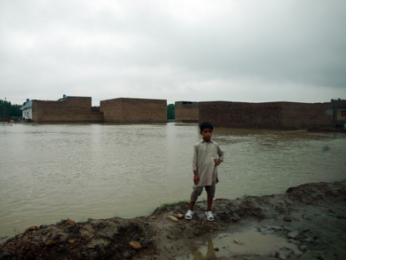 An advanced level remote sensing based climate and flood warning technology is being introduced to upgrade flood management of Pakistan. The project will help build the capacity of Pakistan Meteorological Department and other agencies responsible for flood forecasting, early warning and management at the national, provincial and district levels, a senior official said here on Friday.
UNESCO with the financial assistance of Japan is introducing the system at a cost of 3.5 million dollar which is expected to be completed by 2013. The official said the project will be completed in two years, which will enable the institutional capacity of Pakistan, to predict floods as prior as 1 to 14 days by tracking weather and flood waves. This would be major milestone in achieving the better capacity to mitigate extreme floods like 2010 floods in Pakistan, he added.
The project will not only bring state of the art technology but will also harness linkages between Pakistani institutions such as Pakistan Meteorological Department (PMD), SUPARCO, Federal Flood Commission (FFC), NDMA and Japanese institutions such as International Centre for Water Hazards and Risk Management (ICHARM) which is also a UNESCO Category II Centre and Japan Aerospace Exploration Agency (JAXA). A team lead by UNESCO Headquarters Science Bureau will work closely with these institutions.
The official said the project will not only set up advance technological solutions but will also aim to build capacity of institutions by increasing their existing knowledge and capability to be better prepared and manage the hydro hazards.
"In Pakistan, fortunately we have established institutions, but lessons learnt from the past, hugely emphasize the need of effective coordination among these institutions. These institutions need to be backed by latest modelling and decision support systems, such as Integrated Flood Analysis System (IFAS), to be in sync with the current global benchmarks," an expert told APP.
He said IFAS is a key technological component of this project, which will not only provide satellite-based inputs but also incorporate ground-based rainfall data, as well as Geographical Information System (GIS) functions to simulate river channel network and to estimate parameters of flood wave analysis and interfaces to display output results for early warning. He explained that IFAS would upgrade the existing flood forecasting capability, by integrating complex data including rains, precipitation and ground level situation in delivering a complete picture for the minutest detail to fill in the existing gaps.