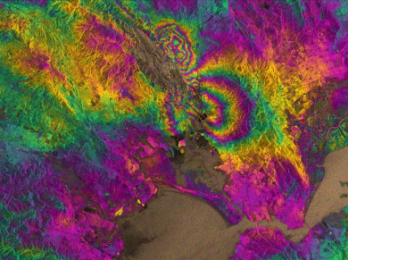 The European radar satellite Sentinel-1A has captured the rupture of the recent major earthquake in Napa Valley, California, USA. The quake on 24 August 2014 was the biggest one in 25 years.
The European Space Agency ESA explains on their website how Sentinel-1A was used: "By processing two Sentinel-1A images, which were acquired on 7 August and 31 August 2014 over this wine-producing region, an interferogram was generated. The two round shapes around Napa valley, which are visible in the central part of the image show how the ground moved during the quake. Deformation on the ground causes phase changes in radar signals that appear as the rainbow-coloured patterns. Each colour cycle corresponds to a deformation of 28 mm deformation. The maximum deformation is more than 10 cm, and an area of about 30x30 km was affected significantly."
The satellite-based research confirms that the 6.0 earthquake was created through part of the West Napa Fault system. Also, the extent of the ground deformation in the interferogram shows that the fault slip continues further north than the extent of the rupture mapped at the surface.