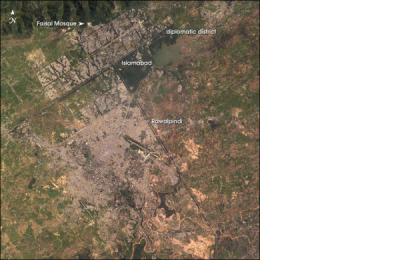 The Pakistan Space and Upper Atmosphere Research Commission (SUPARCO), which hosts one of UN-SPIDER's Regional Support Offices, will support the Pakistani Capital Development Authority (CDA) in preventing encroachments in Islamabad and improve urban planning and monitoring in Pakistan's capital. This was reported by the website The News.
SUPARCO will compare archived satellite imagery with newly acquired imagery to detect changes. In the process of this measure all of Islamabad will be digitalised resulting in a digital map of the city including the rural areas indicating schools, hospitals, roads, dams, parks, or shopping centres. This allows authorities to keep check on the increase in housing and illegal possessions and help in future planning.
Adequate urban planning and a high awareness of the authorities of exact locations of buildings and infrastructures is highly relevant in the context of disaster risk management.