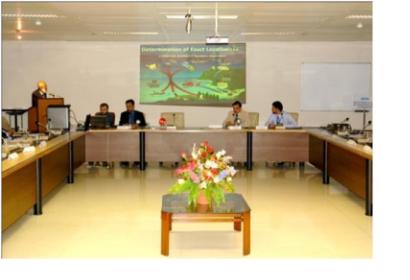 Two Search and Rescue (SAR) exercises and a basic SAR training course were hosted by the Pakistan Rescue Coordinate Centre (PARCC). PARCC is a part of the satellite ground segment of the COSPAS-SARSAT programme of SUPARCO (UN-SPIDER's Regional Support Office in Pakistan) and installed at Pakistan Civil Aviation Authority (PCAA), which is responsible for all matters of aircraft in Pakistan. COSPAS-SARSAT is an international humanitarian satellite-based search and rescue program. The programme provides accurate, timely and reliable global distress alert and location data free of charge and on a non-discriminatory basis to help Search and Rescue (SAR) authorities assist persons in distress. It utilizes satellites and ground facilities to detect and locate ships, aircrafts and land mobiles in distress, all of which have a direct impact on the probability of survival.
The Pakistan ground segment consists of the Mission Control Center (PAMCC) and Local User Terminal (PALUT). It is operational on a 24/7/365 basis and located at the SUPARCO Headquarters in Karachi. The PAMCC is connected to the Rescue Coordinate Centers (RCCs) installed at PCAA for Aircrafts and Pakistan Maritime Security Agency (MSA) for ships.
On 7th Mar 2013 and 30th Apr 2013, 37 Officials from different organizations participated in an exercise. The aim of the exercise was to provide a learning experience in the field of SAR operations, to test and improve operational plans, liaison and coordination skills, in the light of International Civil Aviation Organization regulations and standards.
Under COSPAS-SARSAT, a basic SAR training course of two weeks was organized by PARCC installed at Civil Aviation Authority from 8 to 19 July 2013. Around 20 Officials participated in the course from different organizations to enhance SAR capabilities, Matrix of Pakistan terms of training exercise, coordination, relationship between stakeholders and to enhance the SAR Program for Pakistan.