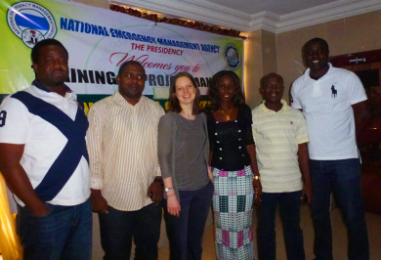 The UN-SPIDER Regional Support Office (RSO) in Nigeria participated in a Project Managers Training for the International Charter: Space and Major Disasters in Abuja, Nigeria. The project managers' training was conducted from 8th to 10th April 2013.
The training was facilitated by Miss Adina Gillespie from DMC International Imaging (DMCii) Limited of the UK with support from the National Emergency Management Agency of Nigeria (UN-SPIDER National Focal Point in Nigeria). Six officers from the UN-SPIDER Regional Support Office in Nigeria, National Space Research and Development Agency, participated in the intensive training programme. The officers include: Mr. Bayo Omoyajowo, Mr. Laide Aderoju, Mr. Ademuyiwa Oyewumi, Miss. Esther Ibrahim Shupel, Mr. Shomboro K. Dauda, and Mr. Isah Ahmed Abdukareem.
At the end of the training, participants were able to manage mock charter activations and demonstrated their competence. One of the trainees, Mr. Omoyajowo expressed satisfaction with the training given that it was hands-on and as a result, the UN-SPIDER RSO is very ready to manage disasters using the Charter infrastructure.