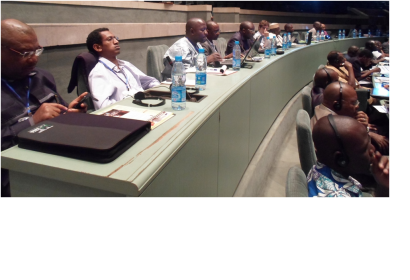 UNSPIDER's Regional Support Office (RSO) in Nigeria (National Space Research and Development Agency - NASRDA) participated in the 2013 annual consultation of the regional committee for disaster management in West Africa (GECEAO). The event was held in Abuja – Nigeria from 4th to 6th of June 2013. The forum was organised by the Economic Community of West African States (ECOWAS), the National Emergency Management Agency, the International Federation of Red Cross and Red Crescent Societies, and The United Nations Office for the Coordination of Humanitarian Affairs (UNOCHA).
The objectives of the forum were to examine the lessons learnt from 2012 disasters, preparation status for 2013 rainy season and development of recommendations (with a focus on cross-border cooperation). Participants included representatives from disaster management organization and civil protection services from the West African States. A session was organised by the UN-SPIDER RSO in Nigeria during the consultative meeting. The session exposed the participants to the role that space technology can play in improving disaster management in their countries. Furthermore, the session equipped participants with existing space based assets for disaster management in the West African sub-region and how they can be accessed.
Consequently, three papers were presented. The first paper was delivered by Halilu Ahmad Shaba (Director Strategic Space Applications Department, National Space Research and Development Agency-Nigeria): "The role of Space Technology in Disaster Management: Case Studies". The second paper "The International Charter: Space and Major Disasters for Disaster Management in West Africa" was delivered by Alhassan Nuhu (Ag. Director, Department of Planning, Policy and Forecasting- National Emergency Management Agency-Nigeria).
The last presentation entitled "The UN-SPIDER Programme" was presented by Godstime James (Coordinator, UN-SPIDER Regional Support Office in Nigeria-National space Research and Development Agency-Nigeria). A series of questions concerning how countries could participate in the UN-SPIDER programme were raised and resolved with adequate information on the procedures for establishing UN-SPIDER National Focal Points. Finally, participants were led around the satellite ground-receiving station facility of the National Space Research and Development Agency.