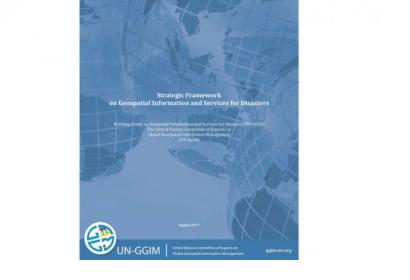 The Working Group on Geospatial Information and Services for Disasters (WG-GISD) of the United Nations Committee of Experts on Global Geospatial Information Management (UN-GGIM) has published a "Strategic Framework on Geospatial Information and Services for Disaster" to guide all stakeholders and partners in the management of geospatial information and services in all phases of disaster risk management.
The role of geospatial information has been widely recognized as an important aspect of all phases of disaster risk management (DRM). While calling on Member States to find solutions to improve availability and accessibility of geospatial information and services, the strategy document highlights the need for strengthening coordination and communication among stakeholders to ensure they are not collecting concurrent or inconsistent data.
The framework emphasizes sustainability, accessibility, complementarity and interoperability of geospatial information and aims to achieve the following outcome:
"The human, socioeconomic and environmental risks and impacts of disasters are prevented or reduced through the use of geospatial information and services"
In order to achieve this outcome, the document encourages Member States to make available and render accessible quality geospatial information and services in a timely and coordinated way to support decision-making and operations within and across all sectors and phases of DRM. Cooperation among stakeholders from governments, UN agencies, civil society, academia, the private sector and the media will be key in implementing the five priorities for action the Strategic Framework defines, which are outlined in detail in the graphic below.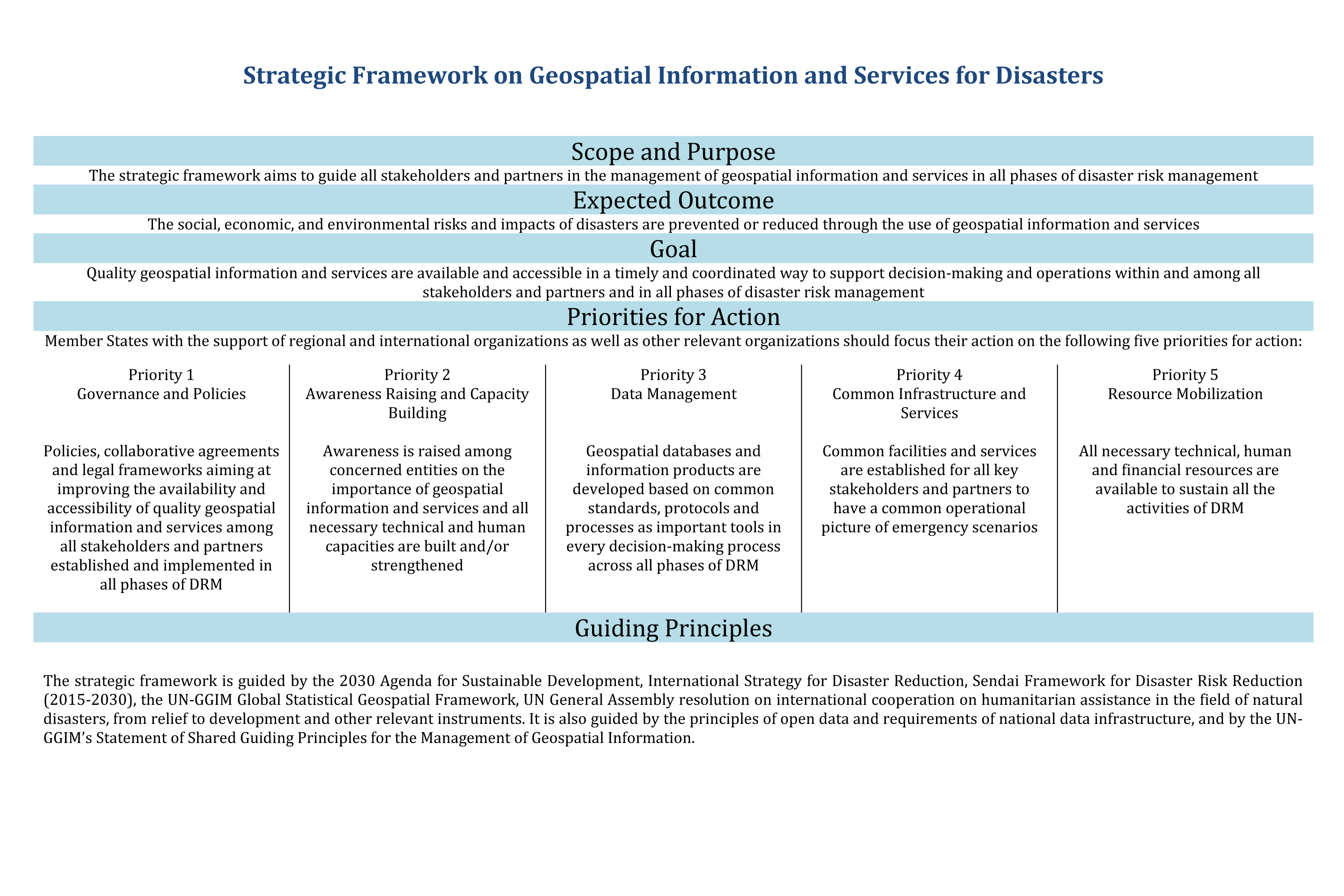 The Strategic Framework builds on a number of key documents such as the Sendai Framework for Disaster Risk Reduction (2015-2030) and UN General Assembly Resolution 59/12 calling on Member States and other stakeholders to assist in addressing knowledge gaps in DRM by improving collecting and analysis systems. By supporting countries in addressing the challenges and social, economic and environmental impacts of disasters, it contributes to sustainable development efforts.
UN-GGIM aims at playing a leading role in setting the agenda for the development of global geospatial information and to promote its use to address key global challenges. It provides a forum to liaise and coordinate among Member States, and between Member States and international organizations. Through UN-GGIM, mapping agencies from all Member States have the opportunity to contribute to developing strategy frameworks such as the present one and thus, with spatial data infrastructures in place, help improve their own national disaster management capacities.