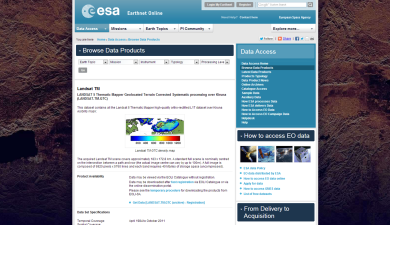 Thousands of never-before-seen data products from the US Landsat satellites acquired over 30 years have been released for online access, as ESA reported. In addition, the newest data over Europe from the latest satellite in the series, Landsat-8, are now accessible in near-real time through a new portal hosted by ESA.
ESA elaborates: "About 150 000 new products from the Landsat-5 satellite are available for direct download, free of charge. The products from the satellite's Thematic Mapper instrument were acquired by the Kiruna ground station in northern Sweden between 1983 and 2011.
Data from the Enhanced Thematic Mapper on Landsat-7 and the Multispectral Scanner on the first five Landsat missions, dating back more than 40 years, will also be processed. These products will gradually become available over the course of 2014." In November 2011, ESA had opened its archive for the first time, allowing free access to over 30 years of archived Landsat data. ESA has been acquiring Landsat data at European stations since the 1970s.