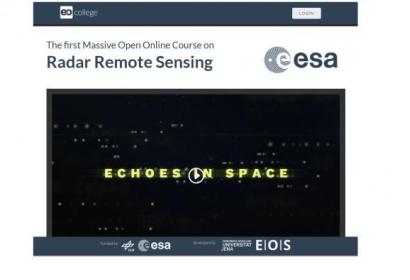 A new online platform offers Earth observation courses, learning resources and social network functionalities to foster exchange among users. EO College has been launched by SAR-EDU, a joint education initiative for Radar Remote Sensing by the German Aerospace Center (DLR) and Friedrich-Schiller University Jena.
The platform kicks off with "Echoes in Space", a five-week massive open online course (MOOC) on radar remote sensing. The course has been developed by DLR, the European Space Agency (ESA) and Friedrich-Schiller University Jena. It is free of charge and starts 9 October.
Registrations for the course are now open at eo-college.org.
Lesson 1 of the course will take students through the history of radar remote sensing and introduce the basics of the technology. In the following weeks, the MOOC will address topics such as the application of radar in the context of remote sensing of land surfaces, monitoring of oceans and disaster risk management.