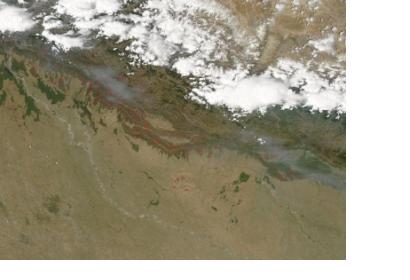 In early April 2013, an operational remote sensing forest fire detection and monitoring system for Nepal was officially launched in Kathmandu, Nepal, as the Himalayan reported.
The system, which is first of its type of system in the region, is installed on the rooftop of the International Centre for Integrated Mountain Development (ICIMOD), one of UN-SPIDER's Regional Support Office. The information for this monitoring and alert system comes from NASA satellites twice a day and is forwarded by email or SMS to subscribers including District Forest Officers and focal persons of the Federation of Community Forestry Users in all 75 districts of Nepal.
The Himalayan further reported: "The system is believed to be crucial for timely response to disastrous fire, which can help protect natural resources, including forest and wildlife as well as the prone closest human settlements. The system, which was piloted in Nepal over the last year, uses active fire data generated by ICIMOD's MODIS receiving station for near real-time detection of forest fires.