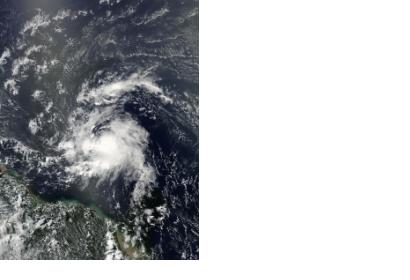 Two NASA satellites have recently captured images of the Tropical Storm Chantal over the Atlantic Ocean revealing heavy rainfall and powerful thunderstorms. On July 8, NASA's Tropical Rainfall Measuring Mission (TRMM) satellite saw the heaviest rainfall of Tropical Storm happening at a rate of over 115.5 mm (~4.5 inches) per hour near the center of Chantal. In this point, near Chantal's centre, the thunderstorms reached heights of over 15 km (~9.3 miles).
Furthermore, another NASA satellite, Aqua, collected some images of Chantal thanks to its Moderate Resolution Imaging Spectroradiometer or MODIS instrument, that flies aboard the Aqua satellite. The image shows Chantal as it moves through the Caribbean Sea. Tropical storm force winds extend outward up to 90 miles (150 km) mainly to the north of the center, but the extent of the cloud cover appears larger in visible imagery.
The National Hurricane Center (NHC) expects strengthening in Chantal's maximum winds that were then near 50 mph (85 kph). It is also expected that the center of the Tropical Storm will move into the eastern Caribbean Sea during the afternoon and evening of July 9 and near the Dominican Republic by July 10.