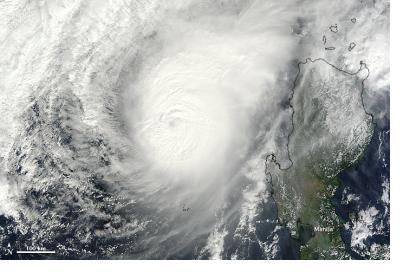 In early December 2012, Bopha made landfall in the southern Philippines as a powerful typhoon. Bopha weakened to a tropical storm after passing over the southern Philippines, but regained typhoon strength over the South China Sea on December 7. On December 8, Unisys Weather reported that Bopha was headed back toward the Philippines.
The Moderate Resolution Imaging Spectroradiometer (MODIS) on NASA's Terra satellite captured this natural-color image on December 8, when Bopha was situated over the South China Sea, just off the Philippine island of Luzon.
After regaining strength over the South China Sea, Bopha again weakened to a tropical storm on December 8, and to a tropical depression on December 9. As the storm wound down west of the northern Philippines, authorities assessed the damage in the southern Philippines. On December 10, 2012, the United Nations' Integrated Regional Information Networks (IRIN) reported that at least 647 people had been killed, and another 780 people remained missing. The storm had displaced more than 360,000 residents.