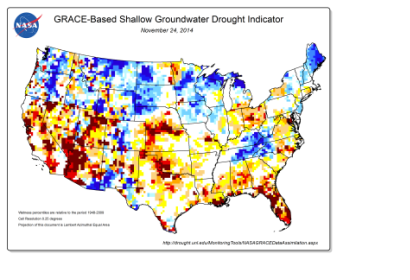 Recent data by the U.S. National Drought Mitigation Center show that the Southwest of the US has been affected by droughts for 11 of the past 14 years and that in 2014 the worst levels of drought has been registered in California. From April 2014 until November 2014, the entire state of California was in some stage of drought: 79.69 percent of the territory was in extreme drought and 55.08 was classified with exceptional drought.
The study has been undertaken employing groundwater and soil moisture drought indicators from NASA's Goddard Space Flight Center. The analysis was build on climate measurements and aimed at designing maps that illustrate drought stages areas in progressive shades of orange to red. The maps are based on terrestrial water storage observations obtained by Gravity Recovery and Climate Experiment (GRACE) satellite data, combined with numerical models of land surface.
More than 64 million people are directly affected by droughts in the American Southwest region and others are indirectly affected in a greater number because of the drought's impact on farms, orchards, and ranches that supply the rest of the United States.