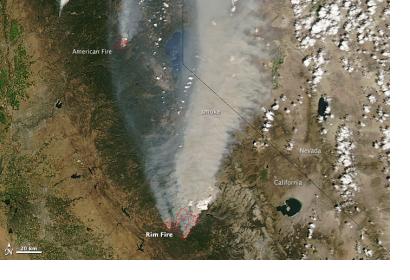 The Moderate Resolution Imaging Spectroradiometer (MODIS) aboard NASA's Aqua satellite acquired this image on 22 August 2013, of the fast-moving fire that started on 17 August in central California, near Yosemite National Park. Despite the efforts of more than 2,000 firefighters, within six days, the fire had charred more than 100,000 acres (40,000 hectares) forcing hundreds of people to evacuate their homes, and to close the roads in the area.
In the picture, the red outlines represent hot spots where MODIS detected unusually warm surface temperatures associated with fires. Moreover, winds blew a thick smoke plume toward the northeast while a smaller fire burned to the north. The image below is a photograph taken at night on August 21, that shows the fire burning.
Considering the annual average of 5.7 million acres charred by fires each August over the last decade, according to statistics published the National Interagency Fire Center, 2013 is considered less active than other recent years.
The International Space Station passed directly over the ongoing fire on 26 August. Astronaut Karen L. Nyberg tweeted from the Space Station: "Our orbit took us directly over California's Rim Fire about an hour ago. Devastating."