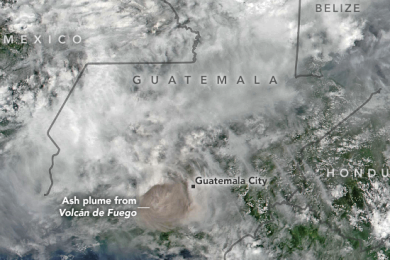 Satellites from NASA and the US National Oceanic and Atmospheric Administration (NOAA) are monitoring the eruption of Volcan de Fuego (Volcano of Fire) in Guatemala that has killed at least 69 people since it started erupting on 3 June 2018.
The Visible Infrared Imaging Radiometer Suite (VIIRS) onboard the joint NOAA/NASA Suomi National Polar-orbiting Partnership (Suomi-NPP) satellite captured an imagery) of the eruption and resulting ash plume emitted by the volcano.
Such satellite images can be utilised by civil authorities, scientists and the local population to understand where pyroclastic flows, a high-density mix of hot lava blocks, pumice, ash and volcanic gas, are moving in order to avoid disaster.
Just before noon on 3 June, the Volcan de Fuego, which is located approximately 50 kilometres southwest of Guatemala City, produced an explosive eruption that sent ash billowing thousands of metres into the air. A deadly mixture of ash, rock fragments, and hot gases rushed down ravines and stream channels on the sides of the volcano. Since these pyroclastic flows often move at speeds of greater than 80 kilometres per hour, they easily topple trees, homes, or anything else in their path. Thus over 3,000 people have been evacuated from the area and Guatemala's main international airport was forced to close. The eruption of Volcan de Fuego was the largest in more than four decades.
In addition to ash, the volcanic plume contains gaseous components invisible to the human eye, including sulphur dioxide. The gas reacts with water vapour to produce acid rain and can affect human health, irritating the nose and throat when breathed in. Satellite sensors such as the Atmospheric Infrared Sounder (AIRS) onboard NASA's Aqua satellite and the Ozone Mapping Profiler Suite (OMPS) on the Suomi NPP satellite are continuing to make frequent observations of sulphur dioxide in the area. A Geostationary Operational Environmental Satellite operated by NOAA, GOES-East, also captured images of the eruption from space.
Volcan de Fuego is one of Central America's most active volcanoes. Earlier this year, NASA satellites captured images of a 31 January 2018 eruption by the volcano, which shot an ash plume 6,500 metres above sea level.
This article was contributed by Jack Kavanagh, UN Online Volunteer mobilized through www.onlinevolunteering.org.