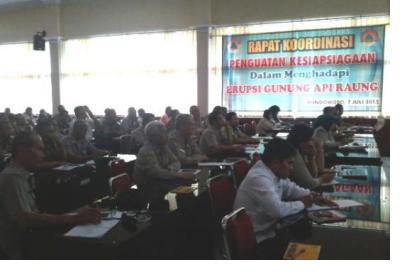 LAPAN, UN-SPIDER Regional Support Office, has been contributing to the mitigation process of the impact caused by the Mt. Sinabung and Mt. Raung volcanoes in Indonesia.
Mt. Sinabung, in North Sumatera, has been erupting since the middle-end of 2013 and Mt. Raung, in East Java, has been erupting since the end of June 2015. Until now, both volcanoes still show activity to the point of releasing volcanic ashes into the atmosphere that disrupt social-economic activities and interfere the air transportation.
In this incident, LAPAN contributed to the mitigation efforts which were coordinated by the Indonesian Board of Disaster Management (BNPB). LAPAN tried to analyse the conditions around the volcano from several images such as SPOT-6, SPOT-7, and SRTM images (Fig 1 and 2 -attached-). Moreover, LAPAN team also supervised the field rescue officer and the local government on the usage and gathering of the information from the images during the disaster mitigation efforts.
Many of the residents around the volcano, uneasy and worried about the eruption, have been evacuated to safe areas.