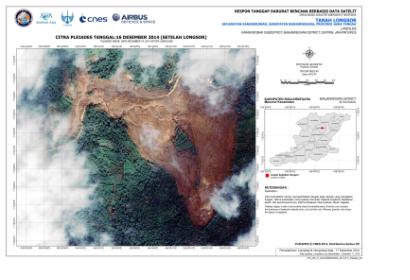 The International Charter: Space and Major Disasters was activated on 15 December 2014 by the Asia Disaster Reduction Center (ADRC) on behalf of Indonesian National Institute of Aeronautics and Space (LAPAN) in order to obtain satellite-based emergency maps. LAPAN will also serve as the project manager for this activation.
Heavy rain had caused a deadly landslide in Indonesia on 12 December 2014, which buried Jemblung Village. 64 people have died, and another forty more are unaccounted for and may still be buried. Currently over a thousand people are working to search for any other survivors.
The provided maps are available on the International Charter's website.