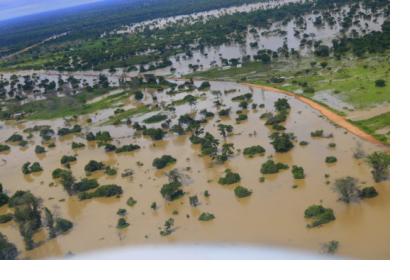 Southern and Central provinces in Zambia are underwater after long-term rainfall starting 11 January, causing overflowing rivers. The floods, reported as "catastrophic" by Zambia's Disaster Management and Mitigation Unit, have caused widespread damage to homes, farmland, and livestock. The floods have also left numerous communities isolated and sanitation facilities completely submerged, exposing the population to a high risk of waterborne diseases.
The International Water Management Institute (IWMI) has offered its support in developing a post-flood recovery strategy and strengthening digital climate agro-advisory services in Zambia.
Spokespersons at IWMI expressed the importance of enhancing emergency preparedness and response capacities to mitigate the impact of climate shocks. Furthermore, IWMI's representatives also stressed the importance of disaster management crisis plans, explaining how satellite-based information products, like rapid response maps, can help decision-making on the ground, for instance in topics concerning damaged crops, identifying vulnerable populations or emerging issues.
For more information on the floods, click here.
For more information on IWMI's support, click here.