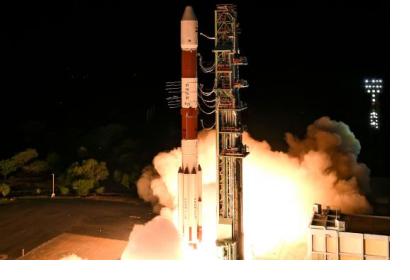 The Indian Space Research Organisation (ISRO) launched on Friday, July 10, three 1 meter resolution optical Earth observation satellites as part of the PSLV-C28 / DMC3 Mission from Satish Dhawan Space Centre, Sriharikota (SDSC-SHAR), the spaceport of India.
The three identical DMC3 satellites were built by the British company Surrey Satellite Technology Limited (SSTL), and have been launched from the Polar Satellite Launch Vehicle (PSLV), in its thirtieth flight (PSLV-C28). These three Earth observation satellites will form the DMC3/TripleSat Constellation.
As explained in ISRO's website, the DMC3 constellation, comprising of three advanced mini-satellites DMC3-1, DMC3-2 and DMC3-3, is designed to address the need for simultaneous high spatial resolution and high temporal resolution optical Earth Observation. Launched into a single Low-Earth Orbit plane and phased with a separation of 120° between them, these satellites can image any target on the Earth's surface every day. Major application areas include surveying the resources on Earth and its environment, managing urban infrastructure and monitoring of disasters.
"These new satellites are the latest and the most advanced of SSTL's Earth Observation spacecraft mounted on a PSLV rocket dedicated to our mission—it was really exciting to be able to push the green button for launch and see them off into orbit!", stated Sir Martin Sweeting, Executive Chairman of SSTL, as informed Satnews after the successful launch.