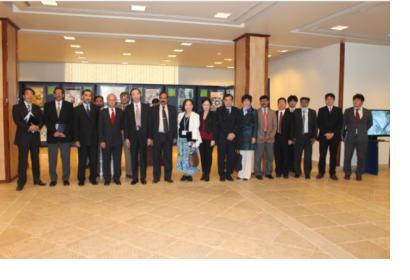 Pakistan Space and Upper Atmosphere Research Commission (SUPARCO) - host of one of UN-SPIDER's Regional Support Offices - conducted a five-day training/workshop on "Flood Risk Mapping Using Spatial Technologies" from 5 to 10 December, 2012.
The workshop was jointly organized by SUPARCO and United Nations Educational, Scientific and Cultural Organization (UNESCO) in collaboration with Pakistan Metrological Department (PMD), National Disaster Management Authorities (NDMA), Federal Flood Commission (FFC), Japan Aerosapce Exploration Agency (JAXA) and International Centre for Water Hazard and Risk Management (ICHARM).
Satellite remote sensing technology integrated with flood modeling techniques undoubtedly provide rapid and steadfast means to identify the flood risk areas of the country. This helps in mitigating the effects of flood by providing early warning risk maps and identification of flood hotspot areas for subsequent relief/rescue efforts.The training focused on flood modeling and risk mapping techniques using spatial technologies and was attended by government officials, researchers and academics. The three-day training, followed by a two-dayinternational workshop and one-day international training led by foreign experts, provided disasters managers an insight in using Satellite Remote Sensing data integrated with Geographical Information System tools to model and simulate the real time flood scenarios in various rivers of the country.
The workshop objectives included the following:
Knowledge sharing on flood management and risk mapping
Introduction to hydrological and inundation modeling software
Application of remote sensing and GIS in Flood risk mapping
Capacity building of the partners and stakeholders