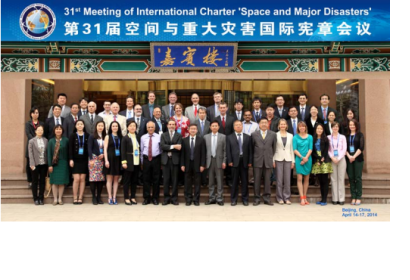 The International Charter: Space and Major Disasters published its 9th newsletter on 28 July 2014.
The newsletter announces that the China National Space Administration (CNSA) took over on 17 April 2014 the rotating chairmanship of the International Charter 'Space and Major Disasters'. CNSA will be leading the Charter for six months, succeeding the Argentinian Space Agency (CONAE). In April 2014, CNSA also hosted the 31st meeting of the Charter, about operational matters and progress and a Project Manager (PM) training course on the International Charter at the China Centre for Resources Satellite Data and Application (CRESDA).
Among the other covered topics: the launch of DAICHI-2 (ALOS-2) from Tanegashima Space Center in Japan, the CNSA contribution of GF-1 Satellite to the Charter and the Universal Access maps provided by Geoscience Australia.
The agency requested the International Charter's support after the severe bushfires of October 2013. The first agency to benefit from the International Charter data through Universal Access, Geoscience Australia, used data received (DMCii, RapidEye, SPOT-5 and Worldview-2 imagery) to produce maps showing the burnt areas as a backdrop to infrastructure information. Such maps are also useful for post-disaster situation briefings to emergency managers and Government.