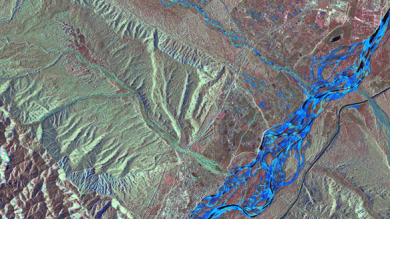 Following severe flooding in northern India and Nepal, the Indian government activated the 'International Charter Space and Major Disasters' on 19 June 2013 at 10:30. The German Aerospace Center (DLR) tasked its radar satellite TerraSAR-X with acquiring images of the affected areas and made these available to the Indian civil protection authorities.
In India, the situation is far worse than first thought. The heavy rains surprised the people in the disaster areas. So far, the floods are known to have killed more than 680 people and thousands are still missing; about ten thousand military personnel have been deployed. The biggest rescue operation in the history of the Indian military is underway. The effects are especially bad in the mountainous state of Uttarakhand, where the Ganges River and its tributaries have flooded. TerraSAR-X has imaged this region over the last few days.
"After activation of the Charter, we provide our satellite data as soon as possible, free of charge. We provide crisis relief from space for people in the affected regions," says Jens Danzeglocke of the DLR Space Administration who, as Charter Secretary, coordinates the German contributions to this international federation of 15 space organisations.