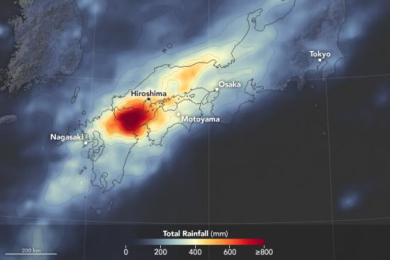 The International Charter "Space and Major Disasters" was activated on 7 July for a major flooding disaster which has hit Japan, the worst the country has experienced in 36 years.
Heavy rains, which first started at the end of June 2018, caused flash flooding and deadly landslides across western and central Japan from 5 July. Over 200 fatalities have been recorded in the country so far as a result of the disaster. The rains which caused the flooding appear to have been caused by warm, humid air flowing from the Pacific Ocean and by remnants of Typhoon Prapiroon, both of which intensified the seasonal rain front. Some 8.63 million people across 23 prefectures in Japan have been ordered to evacuate. The Prime Minister of Japan, Shinzo Abe, called for 73,000 nationwide rescue workers to provide emergency assistance as forecasts predict additional landslides. Hiroshima and Okayama, in the southern part of Honshu Island, were among the worst flooded areas. Some areas are expected to remain cut-off by floodwaters and debris for more than a week.
The International Charter "Space and Major Disasters" was activated by the Government of Japan while the Japan Aerospace Exploration Agency (JAXA) acts as a project manager for the activation. The charter aims to provide satellite data to those affected by natural or man-made disasters through registered organisations, for use in monitoring and response activities.
Estimates on the rainfall expected to hit Japan came from the Integrated Multi-Satellite Retrievals (IMERG), a product of the Global Precipitation Measurement (GPM) mission. The GPM satellite is the core of a rainfall observatory that includes measurements from NASA, JAXA and five other partners. The GPM mission aims to advance understanding of the Earth's water and energy cycles while improving the forecasting of extreme events that cause natural disasters. The IMERG programme utilizes a variety of data to create rainfall maps for affected areas. IMERG estimates indicated that Typhoon Prapiroon, combined with other stormy weather, dumped over 512 mm of rain in areas of Japan. Some areas received one and a half times their monthly average of rainfall in a period of just 24 hours. Typhoon Prapiroon also caused mudslides, flooding and at least one death in South Korea.
Mabicho, a district of Kurashiki City in the Okayama Prefecture in Japan, suffered heavy casualties and extensive damage as a result of the flooding. JAXA compared satellite data from April 2018 and from after midnight on 8 July 2018, about 24 hours after flooding was announced in the area. The data shows floodwaters covering entire residential areas along the two main rivers in the area. Okayama University Professor Shiro Maeno, an expert on river engineering, says he believes that the images produced by JAXA accurately reproduce the scale of flooding. He says the areas highlighted in the imagery almost overlap with the flood-and-mudslide risk zones in the city's hazard map. Since 2005, prefectures in Japan have been required to create and raise awareness of "hazard maps" for areas at risk of landslides and flooding.
Meanwhile, the GPM core satellite analyzed Typhoon Maria as it made landfall in south-eastern China on 11 July after it struck Japan's Ryukyu Islands and Taiwan with torrential rains. The typhoon then brought strong winds and flash floods to south-eastern China. China has been using two of its Earth observation satellites, Gaofen-3 and Gaofen-4, for emergency monitoring of the typhoon.
The United Nations Secretary-General, António Guterres, wrote a letter to Prime Minister Shinzo Abe, to express his condolences for the loss of life and destruction caused by landslides and flooding in Japan. He commended the Japanese government's efforts to help people affected and expressed his admiration of the domestic search-and-rescue teams aiding all those in need. The Secretary-General said that the United Nations stands by to provide support if requested.