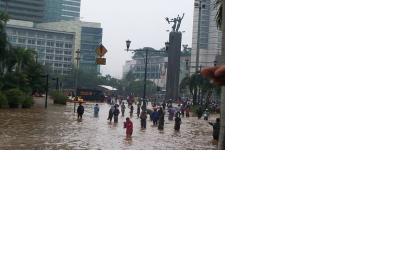 On Monday, Fujitsu Limited and PT. Fujitsu Indonesia announced the completion of a participatory disaster information-sharing system, created for Jakarta's Regional Disaster Management Agency, BPBD DKI. The smartphone application, which lets residents share disaster information, will be ready to go this month.
The app receives real time information from individuals as well as from BPBD DKI, Jakartas Disaster Information Management System, to which it is linked. People can upload pictures and comments, which the app will assign to their locations, using the associated GPS data. Consolidating all information, the application can plot a single map, showing rainfall amounts and river levels. In case of a disaster, it also sends out warnings to all smartphones that have the app installed.
Since this system doesn't need an advanced network of monitoring equipment, it is relatively easy to deploy and therefore also of high interest for other concerned countries. And if people accept and use this new application, it will not only provide crucial information itself, but also simultaneously increase awareness of disaster prevention and mitigation amongst residents.
Jakarta was hit by extensive flooding 2002, 2007, 2012 and 2013 and therfore rolled out a Disaster Information Management System (DIMS), of which this new application is part of.