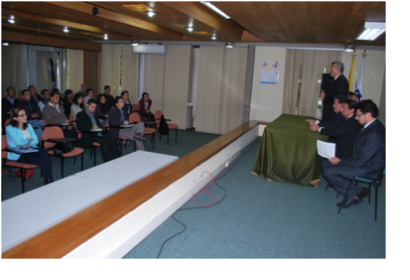 On 22 April 2013, the Agustin Codazzi Geographic Institute (IGAC), in agreement with the Distrital University (Francisco Jose de Caldas), welcomed new students specializing in Geographic Information Systems (GIS) at the auditorium of the Research and Investigation Centre (CIAF).
The event was attended by the Director general of IGAC, Dr. Juan Antonio Nieto Escalante, the rector of the University District, Dr. Innocent Bahamon Calderon, the GIS Programme Coordinator, Germán Cifuentes, the Chief of the CIAF Office, Mr. William Martinez, and the CIAF teachers, Jaime Silva and Alberto Boada, among others.
IGAC's Director General stressed the importance of the agreement between the two entities under which about 448 national and foreign professionals have graduated between 1994 and 2012.
For the current year, another 30 students are expected to graduate from the GIS Specialization Programme, who will take this course at the CIAF.
More information on the GIS Specialization Programme can be obtained from cursosciaf [at] igac.gov.co