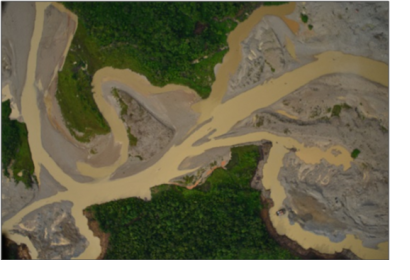 The Agustín Codazzi Geographic Institute (IGAC) through its Research and Development in Geographic Information - CIAF, is developing a methodology to support the identification of illegal areas of opencast mining activities in the north-east of Antioquia Department, Colombia, by using remote sensing and geographic information systems.
According to reports of Colombian Ministry of Mines and Energy in 2011, 63% of the mines do not have legal permits. This makes it very difficult to control, monitor and regulate, which generates environmental and social risks at all levels. The situation greatly affects local communities.
The methodological design of the approach is based on the processing of remote sensing images such as RapidEye, Ultra CAMD and LDCM Landsat 8, visual interpretation, Object-Oriented Image Processing and radar interferometry. The results could enable the environmental authorities to develop a management tool based on remote sensing and geographic information systems for the detection, quantification and monitoring of mining areas in the country, facilitating timely decision making and targeted prevention risk, regulation, control and monitoring.
IGAC is the host of UN-SPIDER's Regional Support Office in Colombia.