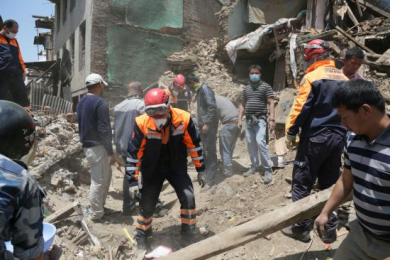 UN-SPIDER's Regional Support Office in Nepal, the International Centre for Integrated Mountain Development in the Hindu Kush Himalayas (ICIMOD), formed a team of GIS and remote sensing experts to support relief efforts after the 7.8 earthquake that hit Nepal on 25 April 2015.
The team is coordinated by the Ministry of Home Affairs of the Government of Nepal. They're processing and analysing the latest satellite imagery being provided to ICIMOD from space agencies around the globe. The team is mapping pockets of settlements in affected districts and creating profiles of affected VDCs to inform relief and recovery operations.
ICIMOD has set up a dedicated webpage to provide the latest maps, data, and information about the situation in Nepal (www.icimod.org/nepalearthquake2015), including links to other relevant sites, which will be regularly updated. The provided information products include maps of settlements, terrain, safe landing spots, as well as potential hazard areas as well as some interpretation of weather conditions in the flight paths based on globally and regionally available forecasts.
This information may help rescue and relief operations like facilitate helicopter rescue teams providing aid relief and evacuation assistance in remote areas hit by the earthquake.
There is an urgent need to assess the impact of landslides for immediate rescue efforts and monitor potential hazards in the future. Moraine dams of glacier lakes may also have weakened during the earthquake, which could result in floods that would affect communities downstream. Together with colleagues around the world – in countries like China, Japan, The Netherlands, and the United States – ICIMOD is closely monitoring landslides, glacier lakes, and river courses by analysing the latest satellite images and communicating the latest findings to the Government of Nepal and relief agencies.