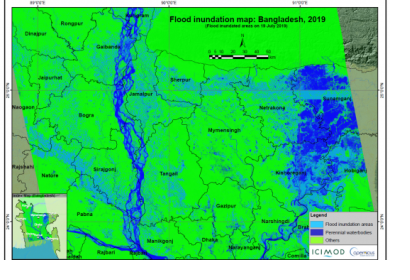 In July 2019, Bangladesh, India and Nepal experienced floods and landslides during the South Asian monsoon season. On the night of the 17 July, the Jamuna river in Bangladesh broke through the embankment, inundating over 40 villages and displacing more than 200,000 people. Experts of the International Centre for Integrated Mountain Development (ICIMOD), a UN-SPIDER Regional Support Office, prepared flood inundation maps after the floods struck Bangladesh. By making use of free satellite data from the Sentinel-1 satellite of the Copernicus programme, ICIMOD experts were able to create maps that give a synoptic overview of the extent of inundation caused by the floods.
Flood inundation maps aid disaster management agencies in prioritizing relief and rescue missions in flood affected areas. These endeavors illustrate the usefulness of satellite data in emergency response: Maps play a crucial role in planning effective and efficient emergency response missions quickly after a disaster has occurred.
The inundation maps created by ICIMOD are available from their Regional Database System here as are other inundation maps created by the organization. Additional databases and interactive web mapping tools concerning the disaster management of floods can be found in this data application of the month,
The ICIMOD is an UN-SPIDER Regional Support Office (RSO) in Nepal which supports the eight regional member states of the Hindu Kush Himalayan (HKH) region within the thematic disciplines of livelihoods, geospatial solutions, ecosystem services, and water and air.
This mapping activity by ICIMOD was carried out as part of rapid response mapping activities under the SERVIR Hindu Kush Himalaya (SERVIR-HKH) Initiative. ICIMOD is the host of the SERVIR-HKH hub and is part of a larger SERVIR network, which is a joint development initiative by the National Aeronautics and Space Administration (NASA) and the United States Agency for International Development (USAID). The objectives of SERVIR-HKH are to build and institutionalize the technical capacity of government decision makers and key civil society groups to integrating Earth observation information and geospatial analysis into their decision-making, planning and communication processes, as well as to improve awareness of and access to geospatial data.