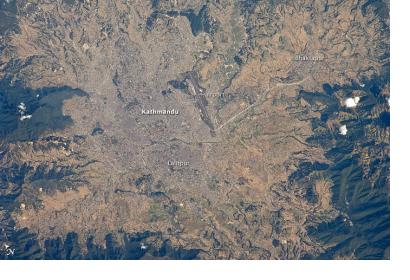 Representatives from regional member countries, Independent Board Members, and representatives from ICIMOD donor organizations came together for the 44th ICIMOD Board meeting from 28 to 30 November at ICIMOD Headquarters in Kathmandu. ICIMOD is host to UN-SPIDER's Regional Support Office in the Himalayan region.
In addition to a review of the Centre's progress in 2013, policies and strategies that build on the ICIMOD's new strategy and five-year plan were discussed and approved during the Board meeting. The annual meeting included meetings of the Programme Advisory Committee (PAC), ICIMOD Support Group (ISG), and the ICIMOD Board of Governors.
Among other things, the Board approved a new Data Sharing Policy. The Data Sharing Policy will help guide ICIMOD in its role as a regional knowledge hub and facilitate the sharing of data between countries and institutions in the Hindu Kush Himalayan region. In line with the Centre's emphasis on growth through partnerships, a Partnership Strategy was prepared and revised for endorsement by the Board. This new strategy outlines the roles of different types of partnerships and ways ICIMOD can help build the capacity of partners in the region in monitoring and evaluation as well as in sound financial management and reporting.