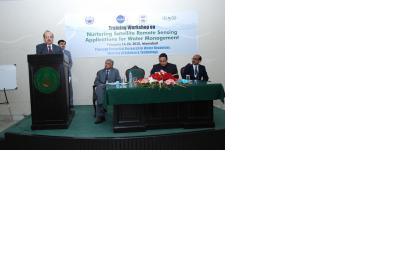 The International Centre for Integrated Mountain Development (ICIMOD), UN-SPIDER's Regional Support Office in Nepal, is co-organising a workshop with the Pakistan Council of Research in Water Resources (PCRWR) on using satellite imagery to better manage freshwater resources
"Nurturing Satellite Remote Sensing Applications for Water Management in South Asia" is taking place in Islamabad, Pakistan from 16 to 20 February 2015. Distinguished professors from the University of Washington, the University of Houston, and Ohio State University are training participants from key water resource management agencies in the country, including PCRWR, IRSA, PMD, and PARC.
At the inaugural session, Kamran Ali Qureshi, Federal Secretary at the Ministry of Science and Technology, emphasized that the use of satellites in space is the only way to constantly monitor the changes freshwater resources are undergoing as a result of the interplay between human behaviour and natural processes. He said that the region, including Pakistan, urgently needs to use satellite remote sensing techniques given the burgeoning population, limited freshwater resources, occurrence of floods and drought, groundwater mining, and the effects of climate change in the region.