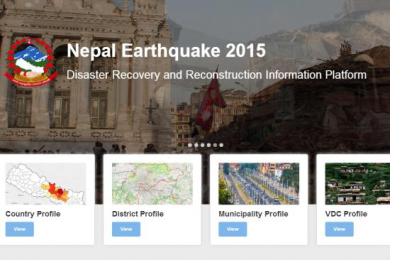 A new platform for earthquake relief and reconstruction operations has been developed for Nepal by the Nepalese Ministry of Home Affairs in conjunction with the International Center for Integrated Mountain Development (ICIMOD), and the Environmental System Research Institute (Esri). The platform, called 'Nepal Earthquake 2015: Disaster Recovery and Reconstruction Information Platform (DRRIP)', aims to rationalize the information gathered by several actors and sources, for a better allocation of the available resources and avoiding the duplication of functions.
It also makes great use of high resolution satellite imagery, aerial records and crowdsourced information gathered through portable devices so that they could be integrated into maps in the information hub. ICIMOD, UN-SPIDER's Regional Support Office, has provided technical support during the coordination of such information.
The data is collected from many partners, including space agencies, UN organizations, donor agencies, the International Charter and subsequently unified in the platform. It offers an overview by displaying interactive maps and charts about demographic damage, relief entities working on the ground and response requirements. Specifically, it has the following components: Country Profile, District and VDC Profiles, Municipality and Ward Profiles, Earthquake Map Journal, Cultural Heritage Map Journal, Geo-hazard Map Journal and Live Feed System for disaster alerts.