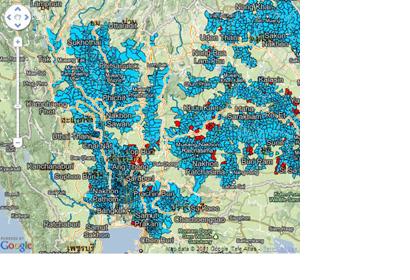 BANGKOK, 11 October 2011 (IRIN) - As residents across flood-ravaged Southeast Asia look up to the skies and brace for more rain, satellites 35,800km away are looking down on them.
Space technology has become a critical tool in protecting people from disasters in countries such as Thailand, Cambodia, Laos and Vietnam, where more than 6.5 million people have been affected by recent flooding and at least 500 have died.
The images the satellites snap and transmit back to Earth are analyzed to pinpoint and predict flooding - information that can be used to direct resources and issue evacuation orders.
It is only recently that developing countries have been able to consistently access such high-tech and costly technology, thanks to international resource-sharing, said Craig Williams, a regional information management officer with the UN Office for the Coordination of Humanitarian Affairs (OCHA).
"Technology is not really a major limiting factor any more - it's what we do with it," Williams said.
In Bangkok, now under high alert for heavy rain and overflowing rivers, a satellite data "war room" has been set up to monitor flooding that has claimed at least 269 lives nationwide and affected about 2.3 million people in 30 provinces since 25 July.
Meanwhile, this week analysts at the Geneva-based UN Institute for Training and Research (UNITAR) were developing a baseline map that shows the extent of Thailand's flooding - the worst the country has faced in decades.
A common starting point
The maps from UNITAR's Operational Satellite Applications Programme (UNOSAT), which are developed with street data from Google and Open StreetMap, provide national, regional and local agencies with a starting point. Relief groups can then overlay other information, such as population data. Doing so allows them to more quickly and accurately estimate the number of affected children in a specific area, for example, and allocate resources accordingly.
"Then everybody has the same emergency information, so that increases the coordination," said Einar Bjorgo, head of UNOSAT's rapid mapping unit.
Satellite maps, from agencies such as the Geo-Informatic and Space Technology Development Agency (GISTDA) in Thailand, are often available to the public online. UNOSAT also offers podcasts - what Bjorgo calls "audio maps" - that explain key messages.
In the hands of individuals, such information could revolutionize how communities that now rely on rain-gauge alert systems get and share critical emergency information. The data also gives the public a way to verify government warnings that they may otherwise shrug off, said Chusit Apirumanekul of the Asia Disaster Preparedness Center (ADPC).
Bjorgo said what UNOSAT is doing is not new, but how it is being used, is.
"What is changing, to the positive, is that there are more and more local, national and regional actors who have the capacity [expertise] to use the data that we derive from the satellites, in multiple ways," he said.
Thailand is using the data to determine which households should receive flood victims assistance, said Paranat Kerdpol, a spokeswoman for GISTDA, which is operating the satellite "war room" in Bangkok.
Images from low-earth orbit satellites capture higher-resolution images from about 500-800km away, and are used in combination with higher-level satellites that capture larger swathes of land. Satellites with radar sensors are used to penetrate cloud coverage.
Predicting floods with satellite information is a bit trickier, Williams said. It requires an analysis of topography, flood control systems such as dykes, river basins, and river characteristics.
"Even if you can predict it," Williams said, "do you have the capacity to act and mitigate it?"
Access but obstacles
In the event of a natural or man-made disaster, countries that lack sophisticated satellite capability can activate the International Charter, which gives them access to national and commercial satellite products free of charge. Since the charter formed in 2000, it has been activated most often for floods - 136 times.
"Using that system, any country in the world, regardless of their economic capacity, can access the benefits of space technology," Williams said.
Some countries, such as Cambodia and Laos, lack the institutional knowledge to optimize the use of satellite imagery, said Chusit, a climate information application specialist at ADPC. Third parties such as the ADPC help, providing training and analysis.
But ultimately, data and analysis is not enough, he said. The information must be communicated to those who are preparing and responding to disasters, so that they consistently use it to better protect people.
"Right now, in Southeast Asia, we don't use this kind of information a lot on the decision-making level," Chusit said. "We still need to break that wall."