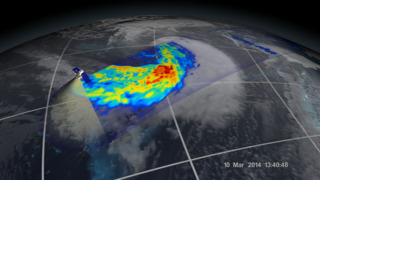 The joint NASA and Japan Aerospace Exploration Agency (JAXA) Global Precipitation Measurement (GPM) Core Observatory was launched, as UN-SPIDER reported, on 27 February 2014. Now, NASA has already released first images obtained from the satellite.
The first images show a slump in precipitation inside the 10 March cyclone over the northwest Pacific Ocean. "It was really exciting to see this high-quality GPM data for the first time," said GPM project scientist Gail Skofronick-Jackson at NASA's Goddard Spaceflight Center in Greenbelt "I knew we had entered a new era in measuring precipitation from space. We now can measure global precipitation of all types, from light drizzle to heavy downpours to falling snow."
The GMI instrument aboard GPM has 13 channels that measure natural energy radiated from the Earth and precipitation. The GPM Core Observatory is the first satellite of this kind designed to detect light rain and snowfall from space.