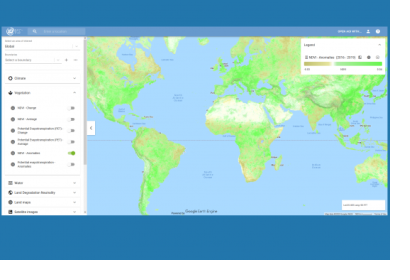 Google and the Food and Agriculture Organization (FAO) of the United Nations have launched a new tool that provides access to multidimensional maps and statistics showing key climate and environmental trends. Earth Map draws on the processing power of Google Earth Engine and aims to help develop insights based on satellite and FAO's agriculturally-relevant data alike. It follows the joint development by Google and FAO of the Collect Earth platform for forest and land cover assessments, and integrates with the recently launched FAO Hand-in-Hand geospatial platform.
Tapping into the wide range of multi-temporal and quasi real-time satellite data available through Google Earth Engine, Earth Map provides planetary-scale analytical capabilities, which facilitate detecting, quantifying and monitoring changes and trends on the Earth's surface. The data available through the platform ranges from temperature to precipitation, population, vegetation, evapotranspiration, elevation and soil. Datasets about yearly fire occurrence and burned areas, and about anomalies related to evapotranspiration and the Normalized Difference Vegetation Index (NDVI) help identify and address natural hazards such as droughts and wildfires. Earth Map also features satellite imagery from the Landsat, ALOS PALSAR, Sentinel 1 and Sentinel 2 missions.
Thanks to its intuitive user interface, the tool is accessible to users that might not have the technical skills to develop such information products themselves; as a cloud-based application, it also does not require users to download and process large volumes of data on their desktop computers. Besides providing maps, the system can serve as a dashboard due to its real-time capacities and frequent updating.
Earth Map can be accessed by following this link.
FAO uses Earth Map and other co-developed tools to prepare and monitor projects, and to help Members apply for grants. It plans to train and assist users in leveraging the tool, and also intends to help develop more bespoke and specialized Earth Map assessments when needed.
Google and FAO entered a partnership in 2015 with the aim to make geospatial tracking and mapping products more accessible, providing a high-technology assist to countries tackling climate change and much greater capacity to experts developing forest and land-use policies. While initial efforts focused on forest and crop cover mapping techniques, the partnership has extended to areas such as biodiversity conservation, pest control and water management.