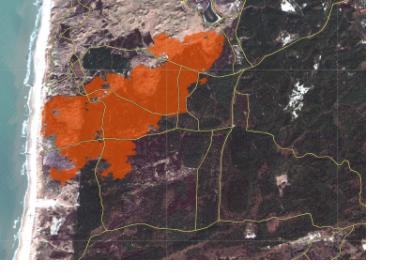 GMES, the European Earth Monitoring programme, has published a user guide to its new, free of charge emergency mapping service, the GMES Initial Operations Emergency Management Service (GIO EMS-Mapping). The guide will be made available on the GIO Portal.
GIO EMS is the first GMES service to become operational, having started its operations on 1 April 2012. It continues efforts from EU precursor projects such as SAFER or linkER established in the pre-operational phase. This service, funded by the European Commission, aims at providing actors in the management of natural and man-made disasters, in particular Civil Protection Authorities and Humanitarian Aid, with mapping products based on satellite imagery. The GIO Emergency Management Service has a worldwide coverage. GIO EMS-Mapping is provided only upon activation by Authorized Users, in all phases of the emergency management cycle. A list of Authorized Users has been established derived from the consolidated user lists of the linkER and SAFER precursor projects.
Two modes of activation have been established:
Rush mode refers to on-demand and fast provision of satellite-derived products immediately following an emergency event. In Rush mode maps are based on satellite data, together with other geospatial data useful for analysing a crisis situation such as aerial imagery, in field measurement and data from global geo-spatial databases. Maps are delivered as fast as possible, typically within 24 hours or less, after the reception of satellite data. Products include Reference maps based on archive earth observation (EO data, acquired prior to the event) as well as Damage delineation and grading maps (EO data, acquired right after the event). The activation procedure is able to cope with several different requests at the same time. The procedure is managed by a single 24/7/365 entry point, the Emergency Response Centre (MIC) of the DG Humanitarian Aid and Civil Protection (ECHO) of the European Commission, staffed with highly trained duty officers. The Service contractor has resources available for the map production on a 24/7/365 basis.
Non-rush mode consists of an on-demand provision of mapping products not related to immediate emergency situations. In Non-Rush Mode products are produced along the same line as Rush Mode, but with longer delivery time (up to 60 days). This service is available during working hours on weekdays only. Non-rush mode products support disaster prevention, preparedness and recovery efforts.