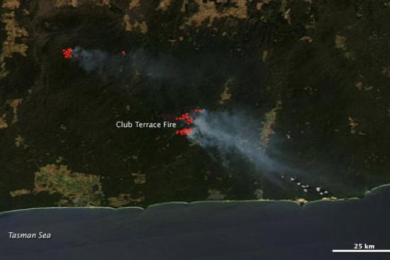 Geoscience Australia is working on a real-time satellite system for bushfire monitoring that would send images to emergency services and the Australian public every 10 minutes, a spectacular increase in frequency as these captures are currently available every six hours. The programme, called "Sentinel", is part of the National Emergency Management Projects (NEMP), funded by the Federal Government, and it should be launched by mid-2016.
The imagery will be captured by Himawari-8, a weather satellite operated by the Japan Meteorological Agency, launched in October 2014. It features a 16 channel multispectral imager to capture visible light and infrared images of the Asia-Pacific region. The data will be sent directly to firefighters via a live web feed, and another public facing web service will also be established.
Dr Chris Pigram, director of Geoscience Australia, stated that "the system will be able to measure hotspots from four times a day to 144 times a day. This increase in frequency means that emergency management services will be able to monitor fire development in real time. If we combine this with information from the Bureau of Meteorology we will be able to model very accurately where the fire will move, how [it will move] and how it will respond."