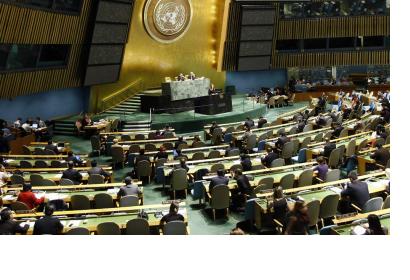 On 9 July 2013 the General Assembly established a new High-level Political Forum, which will replace the United Nations Commission on Sustainable Development, to boost efforts to tackle global economic, social and environmental challenges.
In a resolution adopted by consensus, the 193-member Assembly emphasized the need for an improved and more effective institutional framework for sustainable development, and decided that the Forum should provide "a dynamic platform for regular dialogue and for stocktaking and agenda-setting to advance that process."
The decision follows up on a key recommendation of 'The Future We Want,' the outcome document of last year's UN Conference on Sustainable Development, known as Rio+20. "Establishing the Forum marks a major step forward in implementing 'The Future We Want'," said Secretary-General Ban Ki-moon. "The Forum can provide the political leadership and action-oriented recommendations we need to follow up on all the Rio recommendations and meet urgent global economic, social and environmental challenges.
"We are simply not doing enough to meet the fundamental challenges of our time: to end extreme poverty in this generation and significantly narrow the global gap between rich and poor, without inflicting irreparable damage to the environmental basis for our survival," said General Assembly President Vuk Jeremiæ.