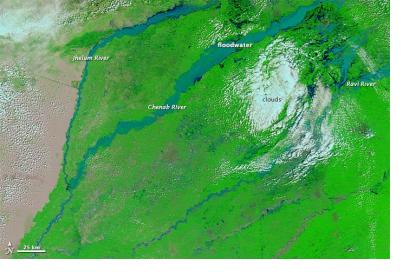 Following heavy floods and landslides in Pakistan's Punjab and Kashmir provinces, the International Charter: Space and Major Disasters was activated to provide satellite-based disaster maps. The mechanism was triggered by UNITAR/UNOSAT on behalf of UNOCHA.
The International Charter reported: "The Punjab and Kashmir Provinces, on the border with India, have suffered the worst of the flooding, and the majority of the deaths in Pakistan took place in Punjab. After the heavy rain, rivers - including the Chenab - in Pakistan and India rose and flooded, sweeping downstream. The surge of water inundated villages and agricultural areas, as well as parts of nearby cities, destroying thousands of homes. Residents had little warning of the rapidly developing flood, which accounted for much of the initial death toll when people were caught in their homes in the night."
The satellite image products will be published on the International Charter's website as soon as they become available.
NASA's Terra satellite has already captured several images of the flood events showing the development of the floods over time.
Floods have also greatly affected the Jammu and Kashmir Provinces in India. The International Water Management Institute has elaborated and published flood maps of the area using USGS Landsat satellite imagery.