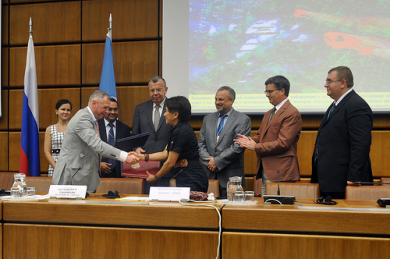 On the sidelines of the 56th session of the annual meeting of the United Nations Committee on the Peaceful Uses of Outer Space (COPUOS), UNOOSA and EMERCOM signed an agreement making EMERCOM UN-SPIDER's 16th Regional Support Office. EMERCOM is the Ministry of Russian Federation for Civil Deference, Emergencies and Elimination of Consequences of Natural Disasters.
Regional Support Offices (RSO), as centres of expertise, communicate and coordinate with UN-SPIDER on a regular basis, especially in the outreach and capacity building activities. The RSOs contribute to publications on best practices, provide experts for technical and evaluation missions, and for training programmes, and support the outreach and knowledge management activities of UN-SPIDER.
UNOOSA's director Mazlan Othman welcomed the establishment of the new Regional Support Office: "EMERCOM Regional Support Office has an important role not only in the Russian Federation but also to become a leader and a source of knowledge in its region. It is a partnership that OOSA is looking forward to strengthen through different activities already planned for 2013 and beyond."
More photos of the ceremony are available here.
More on EMERCOM: http://en.mchs.ru/