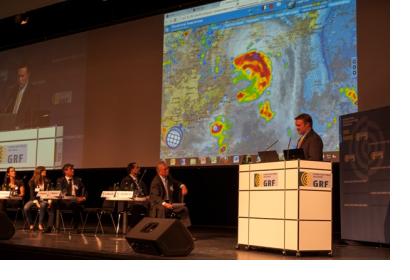 On 24 August 2014, the 5th International Disaster and Risk Conference IDRC 2014 started in Davos, Switzerland. This year's topic is "Integrative Risk Management - The role of science, technology & practice".
Over 1000 participants including business leaders, decision makers, practitioners, UN-, IO- & NGO-agents and scientists from more than 100 countries are attending ICRD 2014 to share and discuss new findings and experiences about the broad spectrum of risks societies are facing today.
IDRC included a special session on "Space Observation, GIS and Risk Mapping, which took place on Monday, 25 August. It was chaired by the GEO Secretariat. The presentations held during the session are available online and include topics such as "Potential of satellite data in catastrophic flood risk mapping and assessment: Case studies from Asia and Africa", "Automatic and on-board forest fire monitoring system" or "International collaboration of space agencies to support disaster preparedness and response and country risk management".
IDRC 2014 is organised by the Global Risk Forum (GRF) Davos in close cooperation with and under the patronage of the United Nations Office for Disaster Risk Reduction (UNISDR). It will conclude on 28 August 2014. A live stream to follow the remaining sessions and keynote presentations is available on GRF's website.
On the occasion of IDRC, a special issue for the Post-2015 Framework for Disaster Risk Reduction of the Planet@Risk publication was issued. The publication features an article on the outcomes of the recent United Nations/Germany Expert Meeting on Space-based Information for Flood and Drought Risk Reduction organized by UN-SPIDER.