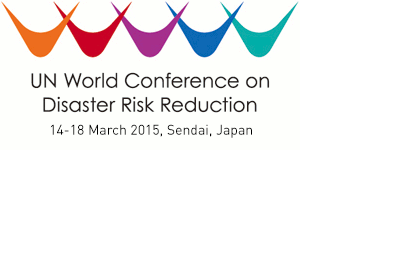 The upcoming Third World Conference on Disaster Risk Reduction (WCDRR) in Sendai, Japan, in March 2015 is expected to bring together more than 6,000 stakeholders from government agencies, international and regional organizations, the private sector, civil society and non-government agencies. Its main outcome is expected to be a post-2015 framework for disaster risk reduction (Hyogo Framework for Action 2 - HFA-2).
Recognizing the relevance of such a global event, UN-SPIDER has been working with more than 15 partners from the Earth Observation community and from UN and other international, regional and national organizations from Asia, Africa, America, the Caribbean and Europe to promote the use of Space-based information at WCDRR. In doing so, in September 2014, UN-SPIDER and several partners have approached selected government agencies requesting their support to ensure that specific texts on the use of Earth Observation and Space-based information find their way into the HFA-2 resolution, as it has already been done in paragraph 18 c) of the pre-zero draft.
Several indicators have been proposed as part of the monitoring system that will accompany HFA-2. UN-SPIDER has therefore elaborated jointly with GEO, CEOS, JAXA, DLR and UNOSAT suggestions on how specific Earth Observation products and satellite imagery, in combination with data and information from the World Bank, the United Nations and other institutions, can contribute to these indicators.
In addition, UN-SPIDER and its partners have approached the organizers of WCDRR with the request to conduct a working session dedicated to the use of Earth Observation to support national and local disaster-risk reduction initiatives. Subsequent efforts will be made during the coming months, in particular during the Second Preparatory Committee Meeting to take place in Geneva in November.