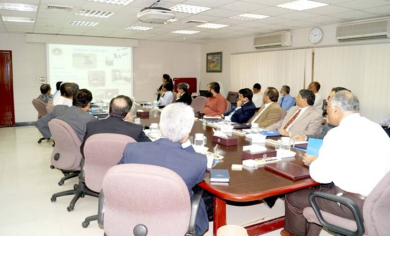 UN-SPIDER's Regional Support Office in Pakistan, SUPARCO, has been participating in the international humanitarian satellite-aided search and rescue COSPAS-SARSAT Programme since 1990 as a ground segment provider. The programme provides global distress alert and location data free of charge and on non-discriminatory basis. It utilizes satellites and ground facilities to detect and locate ships, aircraft and land mobiles in distress. The Pakistan ground segment consists of Mission Control Center (PAMCC) and Local User Terminal (PALUT). It is operational on 24/7/365 basis and located at SUPARCO's headquarters in Karachi.
For effective implementation of COSPAS-SARSAT, the Government of Pakistan approved the constitution of the National Coordination Committee (NCC) with following mandate:
ensuring consistency of satellite aided search and rescue operations / plans with the national plans
maintainability of compatibility with the on-going COSPAS-SARSAT Programme
drafting of legislation concerning emergency distress services
maintenance of the national database and its access to the national users
In this context, the 4th National Coordination Committee (NCC) Meeting was held on 12 September 2013 at SUPARCO's headquarters in Karachi under the COSPAS-SARSAT Programme. Representatives of the Pakistan Civil Aviation Authority (CAA), Pakistan Maritime Security Agency (MSA), Pakistan National Shipping Corporation (PNSC), National Disaster Management Authority (NDMA), Provincial Disaster Management Authority (PDMA) Sindh, DIG Police Sindh, Pakistan Coast Guard, Home Department, Ministry of Defense, Pakistan Air force, Naval Aviation, National Highway Authority, Commissioner Karachi Division and Port Qasim Authority participated in the meeting.
The committee decided to inform the concerned agencies on beacon registration and to prevent the generation of unauthorized distress signal. The committee also decided to review the National Search and Rescue (SAR) plan.