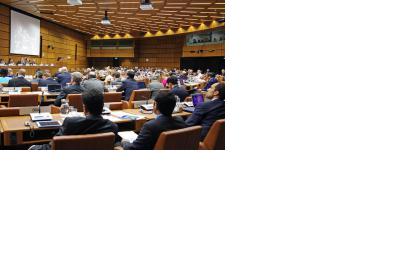 On 2 February 2015 the 52nd session of the Scientific and Technical Subcommittee of the Committee on the Peaceful Uses of Outer Space (COPUOS) opened at the Vienna International Centre. The session will last until 13 February 2015. One of its key topics will be the long-term sustainability of outer space activities, which generally play an important role in contributing to the post-2015 agenda process.
Other key items for discussion include mitigation of space debris, use of space tools for disaster management and space weather research. Recent developments in the use of remote sensing of the Earth by satellites for devolvement goals as well as the safe use of nuclear power sources in outer space, the use of the geostationary orbit and global navigation satellite systems will be discussed as well.
"The importance attached by the international community to cooperation in the area of peaceful uses of outer space is increasing" said Ms. Simonetta Di Pippo, Director of the United Nations Office for Outer Space Affairs (UNOOSA). "This cooperation is a necessary driver for bringing the growing number of benefits derived from space science and technology applications to both developing and developed countries in their common pursuit of attaining the objectives of the global development agenda beyond 2015."
The full agenda of the session can be found at http://www.unoosa.org/oosa/en/COPUOS/stsc/2015/index.html. The press conference on 5 February 2015 can be streamed at http://www.unis.unvienna.org/unis/en/webcast.html.