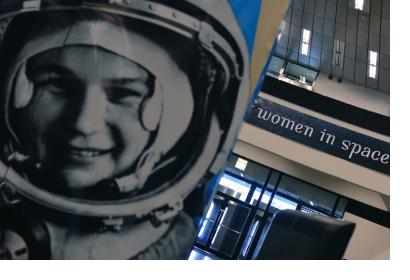 Valentina Tereshkova made her historic space flight as the first woman in outer space on 16 June 1963. The 2013 session of Committee on the Peaceful Uses of Outer Space (COPUOS) - currently taking place in Vienna - marks the fiftieth anniversary of cosmonaut Tereshkova's historic space flight, using this unique opportunity to commemorate it from the perspective of women pioneers in advanced space and scientific endeavours.
At yesterday's opening session of the Committee the Director-General of the United Nations Office at Vienna, Yury Fedotov, recognized the value of women space explorers for future generations: "Space science and technology have made important contributions to areas as diverse as health and disaster management to climate change mitigation and development. The discussion here today makes clear that the peaceful and beneficial use of space relies not only on cooperation between states, but the equal participation of women and men."
To celebrate 50 years of Women in Space, the United Nations Office for Outer Space Affairs (UNOOSA) presented a panel of eminent women in the space-related fields of space exploration, science, technology, applications, business, policy and law entitled: "Space: Building the Future Today" including women space pioneers from Argentina, Canada, China, Italy, Japan, Nigeria, Russia, the United States and the European Space Agency.
"A bird cannot fly with one wing only. Human space flight cannot develop any further without the active participation of women," Valentina Tereshkova said, encouraging more women to take part in space programmes.
Photos of the event are available on Facebook.